Last Updated on May 19, 2023 by hassan abbas
Top 7 Musical Instruments You Can Easily Learn & Play
Everybody likes music, but they listen to it in various ways. Either through actively engaging with the music (listening, humming, or playing) or by passively engaging with the music (both listening and humming). There is no one correct way to associate oneself with a song. Some of them are musicians or composers in their own right. You might do it for fun or a living. They can now get one step closer to music because of this. However, there are hundreds of other musical instruments that may be learned. Many doors will open up for you after you master your musical instrument of choice. While some do it for fun, others are driven by a deep appreciation of music, and still, others use it as a kind of meditation or stress relief. Millions of individuals play a wide variety of instruments throughout the globe. Some folks do it for the thrill or the cash it may bring in. However, with so many options, what are the most often played instruments that are also relatively simple to learn?
The following list shows the top 7 most popular musical instruments that can be easily learned and played.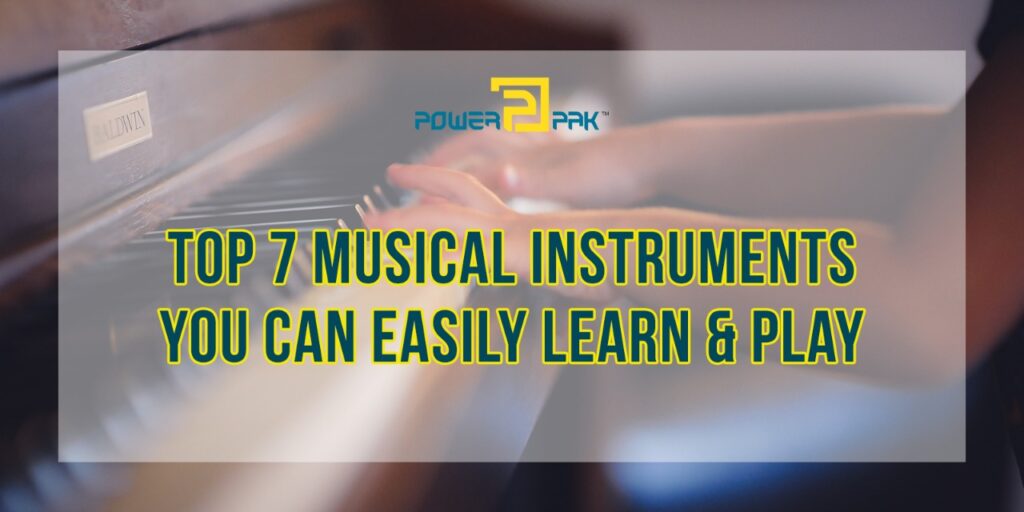 Keyboard
Electronic pianos, or keyboards, provide a wide range of uses and need little upkeep. Unlike more complicated ways of making sounds, electronic keyboards can accurately imitate the sounds of different instruments and synthesizer tones. Younger kids love them because they can record and manipulate their performances. Keyboards differ from pianos because they make sounds electronically and can easily be moved around.
Electronic keyboards are often intended for use by home users, novices, and other non-professionals. Like learning to play any other instrument, learning to play the keyboard has the same benefits as learning to play the piano. It will improve their fine motor abilities, attention, memory, and focus.
Classic guitar
The guitar is a string instrument with four to eighteen strings, with a standard guitar having six. The acoustic sound is projected and is commonly performed by strumming (or plucking) the strings with one hand and fretting the series with the other. Playing the guitar is a great way to boost self-confidence and social skills. Like playing different musical instruments, learning to play the guitar improves children's fine motor abilities, attention, memory, and focus. Learning to play the guitar improves your technique, teaches you more about music theory, and helps you remember the whole neck of notes instead of patterns.
Drum set
Percussion instruments like drums have been around for a long time and come in many forms and sizes. Beaters, which may range from sticks to wire brushes to even bare hands, are the traditional means of playing these instruments. There are both tunable and non-tunable drums. A drum's "head" is a stretched membrane that vibrates to create sound. The shell, or the part of the body covered by the head, is hollow. Stress, disappointment, and frustration may all be lessened by drumming. To learn how to play the drums well, you'll need to know how to break down impossible problems into smaller, more manageable pieces. Engaging in a drum circle is a group activity. Because of the emphasis on timing and synchronization, the drummer must always be in the moment.
Violin
The violin has the highest and lowest pitch compared to other string instruments. The violin is played by pulling a bow across its strings and typically has four strings. Jazz, country, metal, and even folk music all feature integral instruments. Among other stringed instruments, learning to play the violin is a must-do for many aspiring musicians. The discipline, focus, and coordination you'll get from taking up the violin will serve you well throughout your life.
The violin, maybe more than any other instrument, needs perfect posture to play well. You need strength and balance to keep your body and violin in the correct position for a long time. The muscles in your upper arms and shoulders need to be robust so you can play the violin. Violin practice is similar to going to the gym and working out your arms and shoulders. Violinists are the best multitaskers because years of practice have made them more robust, flexible, and able to coordinate their hands and eyes better.
Saxophone
The saxophone is a woodwind instrument that is linked to the clarinet. Like the clarinet, they are usually built out of brass and use a mouthpiece to play. Adolphe Sax invented the saxophone in 1840. It is used a lot in jazz, marching, and military bands. It's no secret that the saxophone's "cool" reputation has made it a popular choice among those looking to pick up an instrument. Even though any musical instrument can be used to express art, the saxophone is a good choice because of its dynamic range and adaptable tone.
There are nine saxophones, but the most common are the soprano, alto, tenor, and baritone. If you like playing the melody or the bassline in a band, there is a saxophone that will suit your needs, no matter how tall or short you are. Playing the saxophone helps your ears learn to tell the difference between different sounds, which is an important life skill. This makes it easier to learn a new language. It also helps you see logical patterns, which is useful in science and math.
Flute
The flute makes its distinctive sound when air moves through a hole, which makes it a woodwind instrument. Each of its many holes may be opened or closed to alter the instrument's tone. Flutes for beginners are often made of nickel- or silver-plated brass, while flutes for experts are usually made of solid silver, gold, or even platinum. Flutes made of wood sound gloomy, whereas those made of silver are dazzling.
Learners make more rapid progress on woodwinds than on string or keyboard instruments, and they can play three notes before the end of the first class. It can be found in classical, jazz, and modern bands, showing the instrument's flexibility. Playing the flute is a great way to relax and helps with motor control, concentration, and self-control.
Cello
The cello is a bow-played string instrument used in orchestras. It is known for its versatility and unique sound. Cellos, related to violins, are most often heard in European classical music. Wood is the standard material, and the cello's top and back are often hand-carved. One of the best things about the cello is that it can be used in place of any string instrument. Because the cello is so versatile, its sound can be easily changed, making it almost impossible to recognize at times.
While the cello isn't a complicated instrument to learn, it does take some time to master. You must put in dedicated, regular practice time and work with a knowledgeable instructor to improve. Playing the cello will be much easier if you know how to read notes and rhythms. Learning to play a stringed instrument like the cello shows how important it is to get a well-rounded education. Cello is a great instrument to know if you want to improve your social skills, your ability to lead others, and your musical literacy. It's a beautiful tool for bolstering self-assurance and sharpening mental acuity.
Choose a musical instrument that you like playing or with which you have a special connection. However, the choice to study a musical instrument is fantastic.