Last Updated on December 11, 2022 by
If you sell cars for a living or want to know more about what goes into the process of buying/selling new and used vehicles, then this article is for you! These tips will come in handy the next time you enter a dealership and may even help to make your experience a pleasant one.
The primary way people get paid as an auto salesperson varies from company to company, but there are three different ways salespeople typically earn money: commissions, salary, and bonuses. So how much do car salesmen make on average? We look at all methods of compensation to find out the answer.
How car salesmen get paid?
A common question that arises when visiting a dealership is how the salesmen get paid. You may have noticed that many dealerships have monthly quotas for their employees and wonder if the salesman receives any bonuses if he exceeds these targets.
Or perhaps you've wondered if there are commissions on certain cars, as opposed to set salaries. In this article, we'll answer both of these questions so that by the time your visit is complete, car shopping will be all the more understandable!
Target-based salary
The next thing to know about the salaries of car salesmen is that most dealerships have targets they expect their employees to reach each month or quarter. These targets can be anywhere between 10-15% of the monthly quotas depending on the industry standards at that particular dealership. If a salesman fails to meet his quota one month, he will typically receive a warning; however, if he misses it again, he may be demoted to an entry-level position such as detailing cars or greeting customers.
In turn, if a salesman exceeds his quota, he is most likely to receive a percentage of his monthly sales in the form of bonuses. A salesman who exceeds his targets consistently will most likely be promoted to manager or general manager, which comes with slightly higher pay and slightly lower quotas.
Read More: How to Use an Espresso Machine? Working Method, Material, Procedure, and Advantages of Espresso Machine.
Commission for car salesmen
There are also certain cars that dealerships encourage their employees to push on customers more than others due to commissions on these vehicles being significantly more extensive than others. A salesman earns commission when he successfully sells a car for the above invoice price (including dealerships' fees). For example, if "Car Inc." charges dealerships $10,000 for one of their models, they may sell it to customers at an invoice price of $9,500; this leaves them $500 of profit to split amongst themselves.
If one salesman can sell the car for $11,000, he will receive a more significant percentage of the commission pool than if he were to have sold it for $10,500 or less. It's clear that commissions are directly related to how well the dealership is doing overall, and thus they are essential for keeping employees on their toes!
Bonuses are generally offered around certain holidays such as Christmas, Black Friday, etc. The size of these bonuses can vary significantly depending on which dealership you visit. Still, one thing that remains consistent is that dealerships offer some kind of bonus between Thanksgiving and New Year's Day each year.
Car Salesman Salary/Wages
One of the first things we looked at was how car salesman salaries vary across the country. We looked at some of the top automotive companies with large employees, including Ford, Nissan, Toyota, and Honda. It appears as though auto workers in midwestern states make slightly more than those on either coast, as the average salary for employees of these companies is as follows:
Ford: $38,000; Nissan: $33,300; Toyota: $36,500; and Honda: $35,900.
Although we're focusing on company salaries here, it's important to note that most urban and rural areas have a significant number of independent dealerships. These types of dealerships tend to hire entry-level salespeople who currently earn around $20K annually. The exact positions at larger companies come with an average wage of approximately $30K per year.
How much commission do car salesmen make?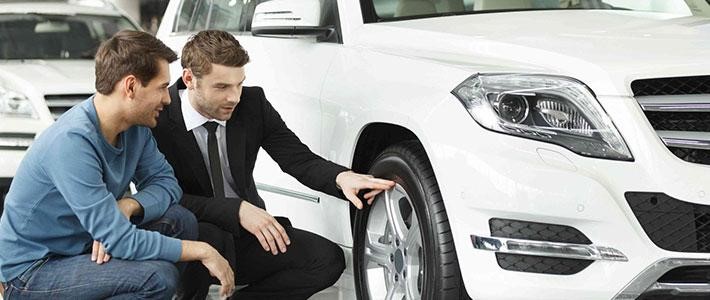 So what about commissions? How much money can a car salesman make in commissions? Nissan recently announced that they had a month where one of their dealerships sold an incredible 533 cars.
Assuming the dealership is equally successful every month, we estimate that they would earn approximately $1.5 million in commissions for the year ($15,000 per car). In general, monthly commission percentage rates vary considerably from company to company and range anywhere between 1-10% depending on overall sales volume.
Bonus for salesmen
Although bonus figures were not made available by most companies, we have heard some pretty significant numbers being thrown around anecdotally. Some individual employees have claimed to receive bonuses as large as $20K! It's also worth noting that many of these prominent bonus figures are typically earned by managers who oversee a group of salespeople.
Other benefits
It's also important to note that many car dealership jobs come with large amounts of lucrative benefits such as healthcare and 401K contributions, which can make the annual wage much higher than the figures we've provided here.
How much does a car salesman can earn?
By considering all variables, we estimate that an entry-level salesperson could expect to earn approximately $47-55K each year! The salary may vary depending on geographic location and the size/reputation of the dealership you work for. And although it would take several years' worth of experience to reach this kind of pay grade, it is possible if you possess strong sales skills.
Bottom Line
That was everything you ever wanted to know about how car salesmen get paid! What may be most important to remember is that salespeople typically work on a salary, usually around $30,000 per year, depending on the dealership.
Additionally, each dealership determines targets, but quotas are generally 10-15% of the monthly quota for entry-level employees and slightly less than that for managers. A bonus is offered between Thanksgiving and New Year's day, but commission rates vary based on how well the dealership overall is doing. Bonuses can be anywhere from $500 to $5,000, whereas commissions can range anywhere from 1%-10% of the final price of a car.
Above all else, though, one thing is sure: working in the automotive industry is a fantastic way to develop valuable skills for your professional future. For instance, you'll learn how to communicate effectively with many different people, enhance your negotiation abilities, and become a master at time management.
The commission, which varies depending on how much they sell, accounts for the vast majority of their income. Instead of being based on the purchase price of the vehicle, the commission is a proportion of the showroom profit. Typically, 20 to 25 % is this proportion.
FAQs
How do car salesmen get paid?
Commission. They are not paid hourly or salary like other jobs.
Who pays the bill at the end of 30 days when it comes in at $450 instead of $199 because there were a lot of "extras"?
The salesman makes money on the deal too. He gets a commission based on a percentage of what he sells the car for.